Face Painting & Body Art
=
Feel safe that Hyper the Clown has: Public Liability Insurance, Working with Children's Card, up-to-date first aid certification and has over thirteen years experience in the industry.
Darwin Face Painting
Face Painting
Hyper the Clown originally started this children's entertainment venture Face Painting at the local Nightcliff Markets, so this means Hyper has been painting in Darwin for over thirteen years!!! 
Face Painting is the old time Children's favourite!! Let their huge imaginative, imaginations run wild. Hyper encourages the kids to be creative and come up with their own designs. Watch as they transform into Superhereos, Princesses, Fairies, Butterflies, Tigers, Puppies, Dragons or Monsters. The possibilities are endless!
When inviting Hyper, you get the pretty silly FUN clown that interacts with all the kids as she paints!
Hyper uses only uses quality cosmetically approved water based face paints such as TAG, Diamond FX and Snazaroo. Which are non-toxic, hypo-allergenic facepaint that can be washed off easily with warm water and soap.
Please visit my Facebook for more images.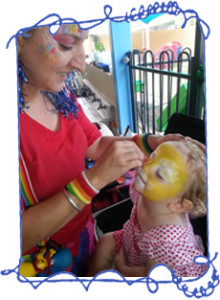 Hyper the Clown provides services around:
Darwin, Palmerston, Howard Springs, Humpty Doo and Remote Rural Areas in the Top End. Northern Territory
If you would like a quote and some prices please contact Hyper the Clown by clicking the contact link above or emailing her directly at: stacie@hyperclown.com
Hyper the Clown – Darwin City NT, 0416592445
 Thank you for searching Darwin Face Painting.