Hyper the Clown
If you are using a mobile, its best to scroll down to the bottom for the desktop version.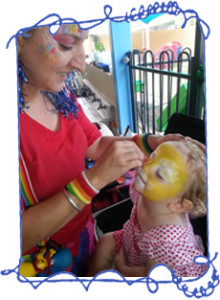 Hyper has been in the children's entertainment industry for over thirteen years.  Hyper specialises in children's entertainment and has performed countless times around the world… but mostly in the Northern Territory. 
Welcome to Hyper the Clown's website. You have come to the right place if you are seeking a professional Children's Entertainer for an event such as a family day, birthday party, wedding or ANY special occasion in Darwin, Palmerston, Howard Springs, Humpty Doo and Remote Rural Areas in the Top End, Northern Territory
Hyper originally started this clowning venture Face Painting in Darwin, Northern Territory at the local Nightcliff Markets, and throughout the years she has grown her repertoire for the most engaging Children's Entertainment. Hyper is a versatile clown, she is a Magician,  Face Painter and Body Artist, Flea Circus Ringmaster, Glitter and Temporary Tattoo Artist, Balloon Twister, Games instigator and runs various fun workshops for all children.
What makes Hyper so special?
Hyper is an adorable, fun-loving clown. She is a pretty, feminine clown with a modern day look that is colourful! Kids just can't help but be magnetically drawn into her web of fun and silliness. When Hyper pulls out her magic tricks, the children become mesmerised when they get help and watch as magic happens right before their eyes. Hyper makes the atmosphere a fun experience, with bubbles, music and naturally clowning around with the kids.
Some children can find clowns a little scary, so with this in mind Hyper has designed her clown face makeup to be as non-threatening to children as possible, after all clowning is about relationship and having heaps of fun!!
With Hyper, you can be assured of getting only the best quality, most professional entertainment. Your guests will be delighted, and your event will have that colourful flair that only Hyper the Clown can bring!! All Hyper's shows provide a guaranteed happy time of  MEGA interactive engagement and fun!
In 2013 Hyper the Clown ventured off to find Humanitarian Clowning. Her first trip was to India with Humanitarian Clowns Inc. In 2014 she then travelled with the Famous Patch Adams to Morocco and Costa Rica. Only to return again to India late 2014 and 2015. Hyper is back in Darwin now and occupies clowning (children's entertaining) as her full-time job, so all business is appreciated!
Hyper the Clown provides quality entertainment and performs for corporate events, functions, kids parties.. even weddings! There is no event too big or too small to have Hyper come along and play!
Hyper specialises in Children's Entertainment and her services include Balloon Twisting, Face Painting, Close Up Magic, Magic Shows, Workshops, Games and Dance!

Humanitarian Clowning is simply connecting with people through fun, friendship and compassion. If this is something your interested in doing please ask Hyper the Clown about how you can be apart of our Christmas Day work <3
Hyper the Clown provides services around Darwin, Palmerston, Howard Springs, Humpty doo and Remote Rural Areas in the Top End of the Northern Territory
If you are in Darwin area and require more children's entertainers, face painters, balloonists, clowns, fairies, magicians,  jumping castles, petting zoo's or pony rides for your event: Please contact Hyper the Clown via her contact forum in the above panel for availability and a quote. 
Hyper the Clown – Darwin City NT, 0416592445