What is Hyper all about?
Hyper drawn by Lauren
♪♫♪♫♪♫ Lets start at the very beginning…  It's a very good place to start. ♪♫♪♫♪♫
Stacie Ashlet was not always Hyper the Clown, but she has always been Hyper. Her Grandfather who was a great inspiration, inspired her to be creative. He encouraged her to write, to use her imagination, to share knowledge and to never stop learning. When Stacie was growing up she was involved in theatre, choir and dance… But her childhood is another story completely!
Stacie moved up to Darwin in 2001. When she moved, she found a couple of jobs involving babysitting. Stacie loved having fun and being creative with the kids. They would help her make play dough, help her create things with it and help her eat it!! Whoops! She would also play hide and seek, paint and climb tree's. Stacie wasn't an ordinary 16 year old, she wanted to have fun with the kids.. instead of sitting on the couch!
Her father, who runs an entertainment agency encouraged her into the entertainment industry. Bubbles the Clown retired to have little clown babies. So, Stacie ended up with face paints, brushes and Chantal the Fairy's face painting bible.  It was the start of something big.
Unable to sit down for long, Stacie ventured towards interactive children's entertainment. With a huge help and eye opener from Jimbo the Clown. She started poping balloons…  but kept with it. Stacie started off slow and kept learning new things to make and create from balloons! She started making balloon sculptures at birthday parties, playing with different sizes and shaped balloons. She found her love for her special sized wormy balloons. Stacie found that one size fits all!
Once Stacie conquered balloon making, and was happy with what she could make and create, she was itching to learn new things to entertain the kids. She learnt all about games, their origins, how they help children develop, everything she could find on games.
Ever hungry to learn new things and
after reading Harry Potter, Stacie focused her interest to learn magic. She learnt magic from books and DVD's, as there was no one willing to share their super duper magic powers! Pratice Practice Practice!… Soon she became a truly magical magican.
In 2009 Stacie followed her dream and bought a bush block with her partner. The block has been named "Spotty Dotty Land" Stacie quit all her jobs when she moved and has just relied on Hyper the Clown as her main income.
Desperate to meet Clowns like herself, in 2013 Hyper the Clown ventured off to find Humanitarian Clowning. Humanitarian Clowns provide Empathy, Compassion, Love, Understanding, Stimulation and Support to those living in hardship.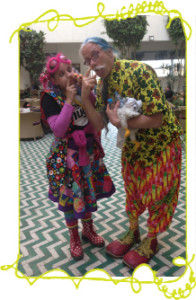 Her first trip was to India with Humanitarian Clowns Inc. It was a life changing experience for her and realised that Humanitarian Clowning was a gift… and so…
In 2014 she wanted to learn more, so she traveled with the Famous Patch Adams to Morocco in April.. and then to Costa Rica in August. Only to return again to India late 2014. Hyper is back in Darwin now and occupies clowning (children's entertaining) as her full time job, so all business is appreciated!